Hi Everybody,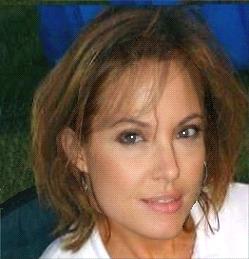 I'm so happy to meet you all (yes I'm a southern gal :) & to be one of BookStrand's flagship authors. I love relaxing on the beach in Ocean City, MD, and we're going on 16 wonderful years of happily ever after. Our son is grown and living an apron's string away from mama right here in Norfolk, VA. I'm looking forward to chatting with each and every one of you, sooo don't be shy!

I live a double life, techno geek by day and witchy romantic when the moon is full :) I have always loved to write and have done a fair amount of professional writing for my job. I never did anything creative until I started to have some health issues in the late 90's. After a geeky reference manual and a few tongue-in-cheek editorials, I thought it would be fun to try my hand at romance.
THE TWIST is my first published novel. A story of mind-bending control and unnerving metamorphosis, THE TWIST unravels the tale of a hotshot consultant as he struggles to foil a plot to steal $12 million and to rescue the feisty, female scientist who has stolen his heart.
THE TWIST is scheduled for release, JULY 8, 2008.

ZANE TOLLISON'S wife is running through their cash faster than he can make it. A "Hail Mary" contract with Clearwater Tobacco arrives in the nick of time to keep his fledgling, consulting firm afloat and to unchain him once and for all from his narcissistic wife. Beautiful, brilliant and estranged, KATHY DAVIS is desperate for a new beginning. The feisty post doc bio-geneticist jumps at an offer from Clearwater, pouring her soul into a development that will revolutionize the tobacco industry.
The two are unwittingly reeled into a convoluted plan to steal $12 million; Zane is changing into a carbon copy of Kathy, a pawn in a bizarre genetic metamorphosis, entangling Kathy in a sinewy web of seduction and deceit. Forging a bond that will set the course of their destiny, they fight to overpower the diabolic hold that has taken over their lives.
CLICK HERE to read the first chapter of THE TWIST.

Visit me at MySpace to see what's going on in my world.
Let's have fun!
Lee

Lee Silver
Romance with a Twist
THE TWIST, Coming July 8, 2008 from BookStrand Publishing
http://www.leesilver.org