Sunday, October 18, 2009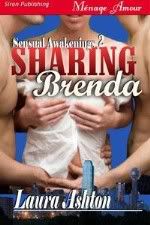 Sharing Brenda by Laura Ashton
Publisher: Siren-Bookstrand
Genre: Erotic Ménage M/F/M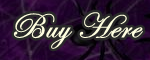 Disclosure: Review Copy Received from Publisher
Summary:
Brenda has been through enough relationship drama. After her husband was caught cheating at their wedding, she decides it's time to start over. Brenda leaves her fast-paced city life behind to start over on a ranch in east Texas.
Part of her fresh start comes in the form of ranch hand Billy Joe Watkins. Brenda's taken with his gentlemanly, handsome ways. When she meets his good friend and fellow ranch hand, Salvador Rivas, the next day, sparks fly with his overly seductive nature.
Both admit to being ladies men, but claim their attraction and feelings for Brenda are sincere. They say they will do whatever it takes to prove to her they're in it for the long haul. Can Billy and Sal be trusted? More importantly, can Brenda learn to love again so quickly and easily?
Amanda's Review:
Sharing Brenda
starts out where
Jasmine's Urban Cowboys
leaves off, and as I have stated before, Brenda was the reality check that Jaz's story needed. I can now say it continues into
Ms. Ashton's
sequel.
Last time we saw Brenda she was about to make the biggest mistake of her life, she was going to marry Kerry. Even though her friends and everyone around her told her not too, she pushed forward, hoping it would get better. It only got worse. With Annulment on her mind she sets out to change her life for the better!
Sharing Brenda
is nothing like the first book; where
Jasmine's Urban Cowboys
is hot and heavy from the beginning, Brenda takes her time, making sure having a threesome and a relationship with two men is something she wants, and something that might take her life in the right direction.

I loved Ted and Gregg in the first book, but I didn't like Sal in this story. I found him way too pushy and overbearing. There is a fine line between being an Alpha and just being a jerk, and yeah, to this reader, Sal falls in the jerk column.
I believe Brenda would have been happy with just Billy. He was the one who looked out for her, and he was the one who defended her. I found the way he protected and took care of her sweet and kind. I would have to say I would rather have a Billy in my life than a Sal. But that is just my personal opinion.
The sex in
Sharing Brenda
was just as good and just as HAWT as
Jasmine's Urban Cowboys
. It leaves you craving more and turning the pages slower as every word seeps into your consciousness. The visuals are stunning and I love how
Ms. Ashton
leaves her stories open for another installment. Which this reviewer is hoping will happen sometime soon. LOL!!!
So peeps, if you are looking for another sizzling story from
Ms. Ashton
,
Sharing Brenda
is the book to read!
Rated 5 Delightful Divas and a Recommended Read by Amanda!